Alors qu' un froid presque hivernal  arrive soudain,  les lièvres , et lapins blancs rêvent de tea parties, jardins et pays des Merveilles.
 As  winter cold , grey skies are  suddenly there , (which I confess I like very much 'being a winter person , ) white Rabbits and hares  are dreaming of Tea parties, gardens and Wonderland.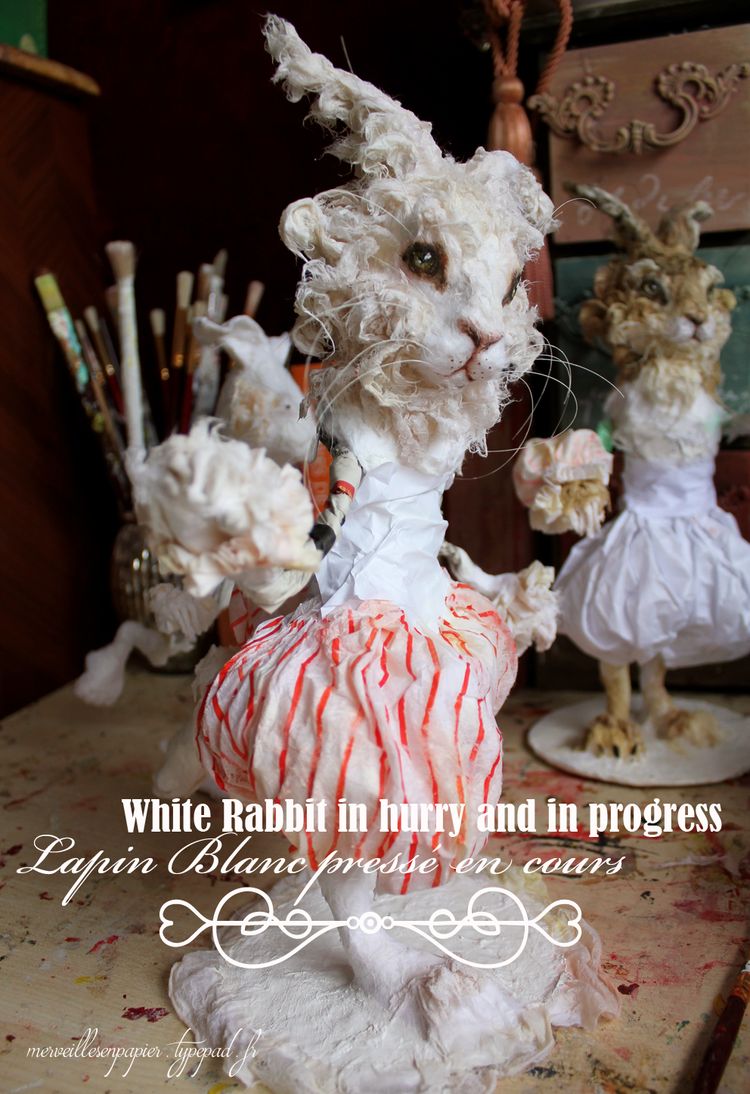 Et  Voici  fraichement filmée, une petite vidéo sur la Magie du papier kraft Si la vidéo ne s'affiche pas cliquez ici 
Cette fois ci je n'ai pas eu le temps de la refilmer en français mais par contre toutes les vidéos techniques seront désormais bien rangées  sur un blog jumeau du principal  sous l'adresse merveillesenpapier.typepad.fr/tv  et classées avec plein d'étiquettes  et mots clefs afin de s'y retrouver plus facilement  et , vous pourrez lire ainsi les grandes lignes traduites de chaque vidéo que je n'aurais pas eu le temps de filmer dans les deux langues. Un petit tiroir à tirer  qui va se remplir au fil des semaines que vous trouverez en haut et et sur le coté du blog.
Et partagez  vos idées et expérimentations si vous  vous essayez au papier kraft , ce papier est absolument Magique  et ses possibilités sont sans limites  !
And a little video about the Magic of Kraft Paper if the video doesn't appear click here,, you can also find all my upcoming technical videos on a twin blog  linked to this one merveillesenpapier.typepad.fr/tv ,  a place where all my videos will have video notes , translations, and alot of labels on the sidebar so you could find easily what you are looking for  !
(you will find this new magic box on the side bar and on the top  of my main blog )
and let me know ! share with me your comments , if you experiment  things with magical Kraft Paper, this is one of my absolute favorite paper , it costs nothing and gives the most spectacular effects you could dream of !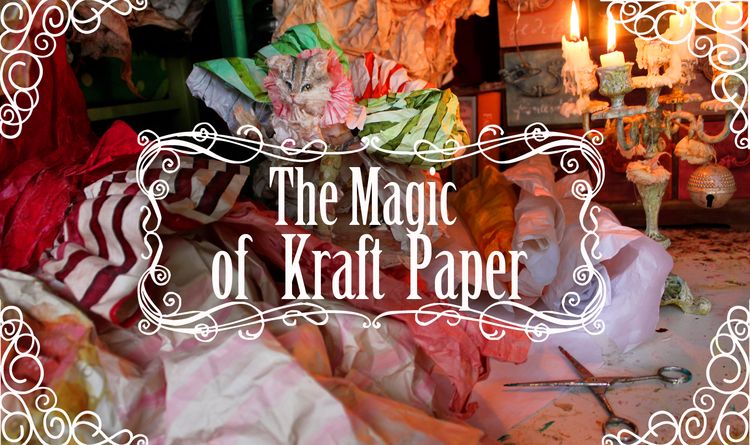 Et un  très chouette livre juste commencé  vraiment inspirant  sur la créativité et qui s'adresse à tous où qu'on en soit dans son parcours et dans ses aspirations artistiques; amateur , artiste installé   ou écrivain du dimanche,   tout le monde peut  y trouver de belles pistes de réflexions.  Il est disponible en français sous le titre  Comme par Magie d'Elizabeth Gilbert.
And just started reading the last book  by Elizabeth Gilbert  Big Magic, so inspiring, and comforting , it's a must read for everyone, beginners , writers , artists , or people who have dreams somewhere hidden , forgotten and buried, you need to read this!