Théâtre en papier de 75 cm de haut enfin terminé, pas beaucoup le temps de passer par ici ces derniers temps à à cause du travail d fin d'année et aussi à cause de la fête des Lumières qui s'est éteinte mardi après 4 nuits sous perfusions de rêve et d'enchantement absolu j'ai fait plein de vidéos cette année,  vous pouvez lire mon compte rendu à la fin de ce post .
Sinon une petite annonce urgente : je recherche quelqu'un qui pourrait accueillir mon stage à Paris un weekend de février en échange d'avoir le stage gratuit,pour plus de détails  contactez moi  si ça intéresse l'une d'entre vous.
A Paper theater about 29, 5' at last finished ,

I don't update my blog very often at the moment mainly because of christmas work and also I have to say because of a magical  event which happen every year in december   here the magical Festival of Lights has just ended tuesday after 4 amazing  Wonderful ,  nights, and this year I've made a lot of videos you can read my impressions about it at the end of this post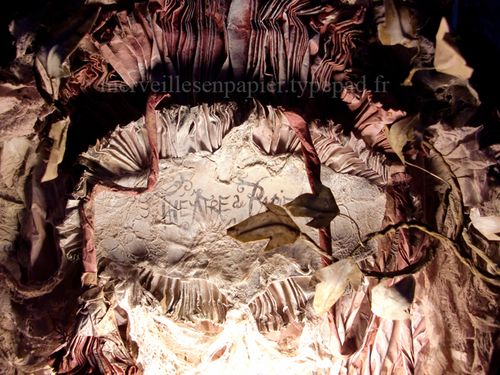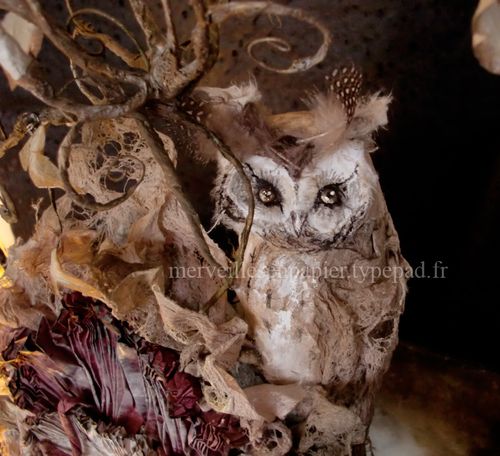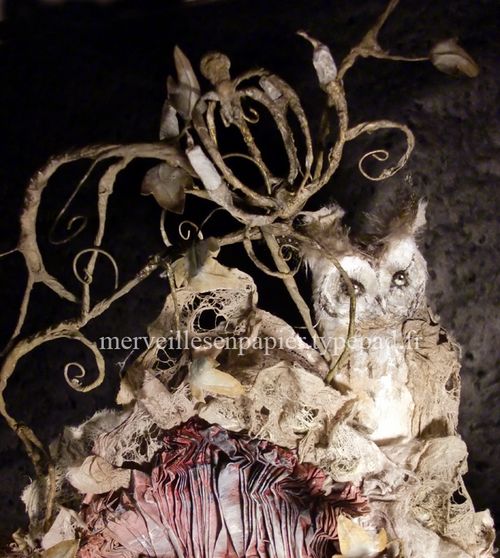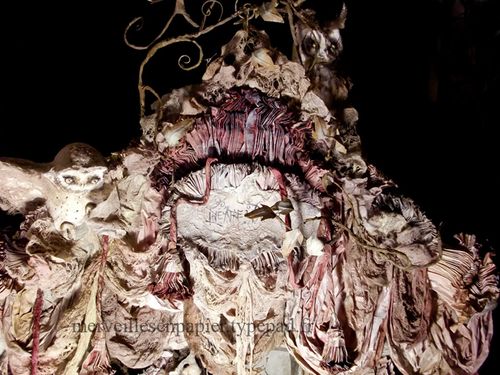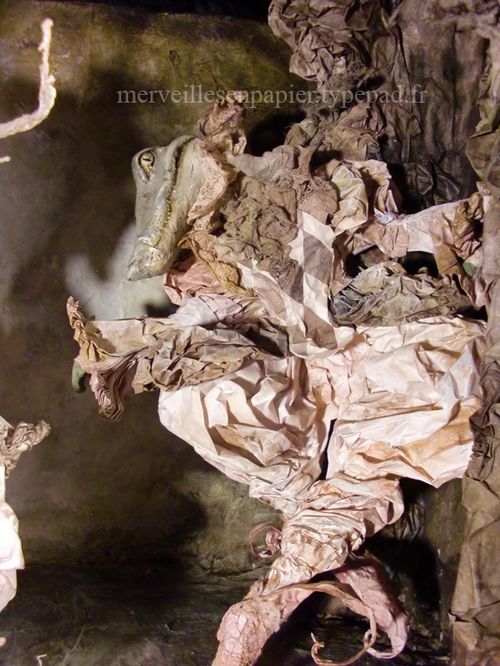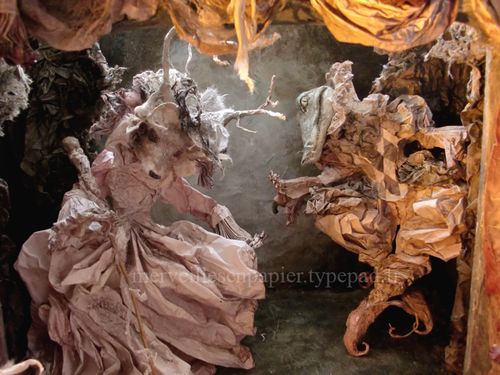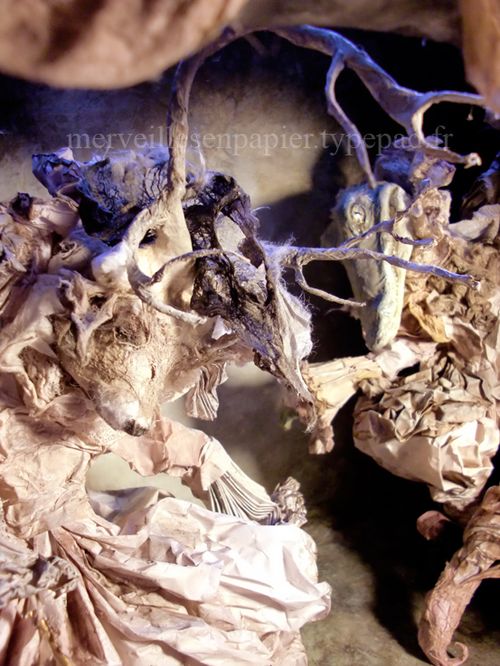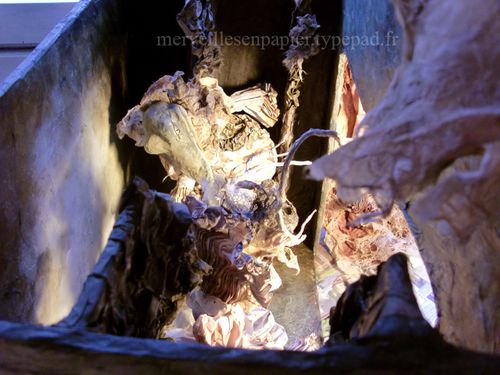 Une fois de plus le carosse est redenu citrouille mardi à minuit mais  cette année j'ai pu prendre pas mal d'images de la fête des lumières  j'ai commencé à les déposer ici. Ce cru 2009 était excellent n'en déplaise aux mauvaises langues et aux Lyonnais grincheux,  blasés et aigris qui préfèrent rester ces nuits là enfermés chez eux devant leurs télévisions...... Aussi inconcevable que ça puisse paraitre ,j'en connais beaucoup qui sont complêtement hermétiques à ces spectacles hors du temps ,et qui me prennent pour une illuminée qui se contente de peu ......qu'ils restent dans leur obscurantisme !

Une de mes illuminations préférées  était les jardins du rosaire situés sur la colline de Fourvière transformés en jardin enchanté avec des éclairages somptueux .Le spectacle sur la cathédrale st Jean les Bâtisseurs était également un  chef d'oeuvre  du genre, qui revisite l'histoire de la cathédrale , ( il a remporté le prix d'ailleurs du plus beau spectacle cette année)du mème artiste Damien Fontaine et par la,même  équipe mon spectacle préféré de cette année  se déroulait sur la façade de la préfecture  : l'idée de transformer la préfecture en jardin enchanté puis  fabrique de lumignons et surtout palais diabolique m'a ravit, tout m'a plu: le magnifique prince des enfers comme habitant momentané de la préfecture les escargots et grenouilles gigantesquess les lumignons du 8 décembre devenant une sorte "d'anneaux"précieux et convoité,loin de leurs significations unpeu (trop) religieuses à l'origine
et puis beaucoup d'autres choses grandioses ou plus simples que vous verrez sur mon compte you tube ... Il faudrait des pages pour parler de tout ...
enfin c'est des étoiles plein la tête que je vous laisse, je continuerai à ranger mes vidéos au fil des jours vous pourrez y jeter un cil si ça vous dit.
Once more the magical festival of lights is over but  has enchanted the city for four wonderful nights!!(for those who don't know it's a huge light festival , of big and small light shows which take place every night for 4 days in december  in gardens, squares,in front of cathedrals, buildings parks, everywher in the city  )and it's impossible to explain with words it's AMAZING !

you can see my videos here ( I still have more to upload )I could never be tired of such amazing shows ,and I can hardly understand how some people can stay locked in front of their tv  living in this city during these nights .......I suppose it's sad not to be able to enjoy such pleasures...   I could never understand that .... anyway my favourite shows this year were the the big show of the cathedral stJean relating the history of this cathedral, it was poetic and breathtaking ... Ithink I've seen it at least 15 times these past nights (and the team and light artist of this show won the price of the best light show thsi year)and by the same artist Damien Fontaine  my favourite light  show was this one because of the beautiful devil , the giant snails and frogs, the owls at the end , and I like the idea that this  official building odf the city )was thought as a castle of a devil ... I like that :)!! (I still have those moments to upload  to complete the other videos)

and the gardens here were incredible,like fairy gardens , of course the videos don' ttranslate very well the magical atmosphear of the shows and lights .

---