ENGLISH VERSION BELOW
 Vous pouvez trouver le papier Kraft Blanc  sans rayures  sous la forme de rouleau  dans la plupart des magasins d'arts créatifs et sur internet sur ce site par exemple
I

l est très simple, bon marché, facile à trouver et 

peut créer des effets vraiment spectaculaires .
Ce papier est parfois  utilisé dans les boutiques  pour emballer des objets fragiles, ou même  d'autres papiers. C'est en réalité comme ça que je l'ai découvert et détourné .
Il est très utile pour de grosses pièces, pour des grands  et moyens personnages, je l'utilise principalement pour mes plus grosses pièces , mais aussi pour des robes de papier pour mes maisons de poupées.
Mais il pourrait être utilisé à la place de tissu pour des  costumes , des rideaux en papier pour  imiter n'importe quel objet en tissu  ... Bien sur contrairement au tissu vous ne pourriez pas le laver mais l'épousseter pour le garder propre.il y a d'infinis possibilités avec ce papier
Je l'aime bien parce qu'il est assez épais, il a  une très bonne tenue et une sorte de rigidité , et est très résistant associé à la colle à bois qui est ma colle favorite et dont je vous parlerai plus en détails dans la prochaine vidéo .
Bien qu'étant très souple il peut devenir  très rigide   vous pouvez le sculpter et le travailler sans risque qu'il ne se déchire  et lui donner beaucoup de mouvement , et c''est là toute sa Magie .
Il peut de venir aussi léger et aérien que vous le souhaitez  tout en gardant le mouvement  que vous voulez lui donner comme si le vent  venait s'immiscer dans ses plis et ainsi créer un effet très théatral.
Lorsque vous savez bien le dompter vous n'avez nul besoin de support de fil de fer, grillage, carton ou carton mousse, de la colle et du papier kraft seulement  peuvent être tout à fait suffisant  pour réaliser  tous vos rêves  les plus fous
Un côté est légèrement plus glacé et c'est sur ce coté qu'il faut peindre .
N'hésitez pas à aller vous chercher un rouleau et à  explorer quelques une de ses infinies possibilités  !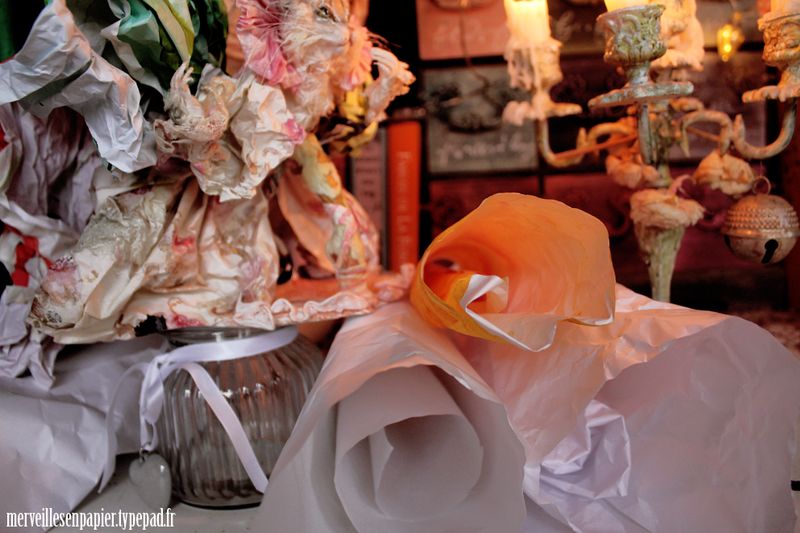 *****************************************************************************************
It can  be found in any art and craft shop and online  on Amazon
It is one of the paper I use the most, the plain version without any lines at all, plain white .  it comes in a big roll and last a very long time.
It costs almost nothing  and can create   spectacular effects.
This paper is mainly use to wrap things ,shops and stores often use it to wrap  fragile objects, or even to wrap other papers.
I like it because it's thick enough , it has a sort  of rigidity  and is quite resistant  in itself  associated with woodglue which you will discover in an upcoming video  it can be very strong, you can really give a lot of movement, you can sculpt it easily without fearing  to tear it  and the really magical detail is  it will keep any movement you want , if you want it to be as light as possible , once you've sculpted it , associated with wood glue As if wind danced in the pleads of the dress or the costume to create dramatic effects
I don't add anything else,when I work with it  it is just paper and glue  as simple as that .you don't  need any wire , any cardboard, any supporting tool or supply  in that case less is more
And one side is slightly glossy which is also very interesting when you paint it
 It's useful  for very big pieces ,  I mainly use it for my bigger sculptures and characters  and  for the paper dresses as well as in my dollhouses  but it can be used for paper curtains,  paper tassels, use paper  instead of using fabric you can try  and see how it does the job ,  you couldn't clean it or wash it in anyways, only blow it and dust it to keep it clean though
Have fun and play with it!
---