" Hélas ! disait-il à Chatte Blanche, que j'aurai de douleurs de vous quitter,
je vous aime si chèrement !
Ou devenez fille ou rendez moi chat !"
"Alas!" he said   to White Cat , "how grieved I shall he to leave you, I love you so dearly!  
Either become a woman or make me cat !" 
*******

Tous les passages  entre guillemets sont extraits du conte de la chatte Blanche de Madame d'Aulnoy. Ce Carrousel est en vente à La Maison du Roy à Paris.
All the texts  in this note are excerpts from The White Cat by Madame d'Aulnoy (1698). This carousel is for sale at La Maison du Roy in Paris.

*******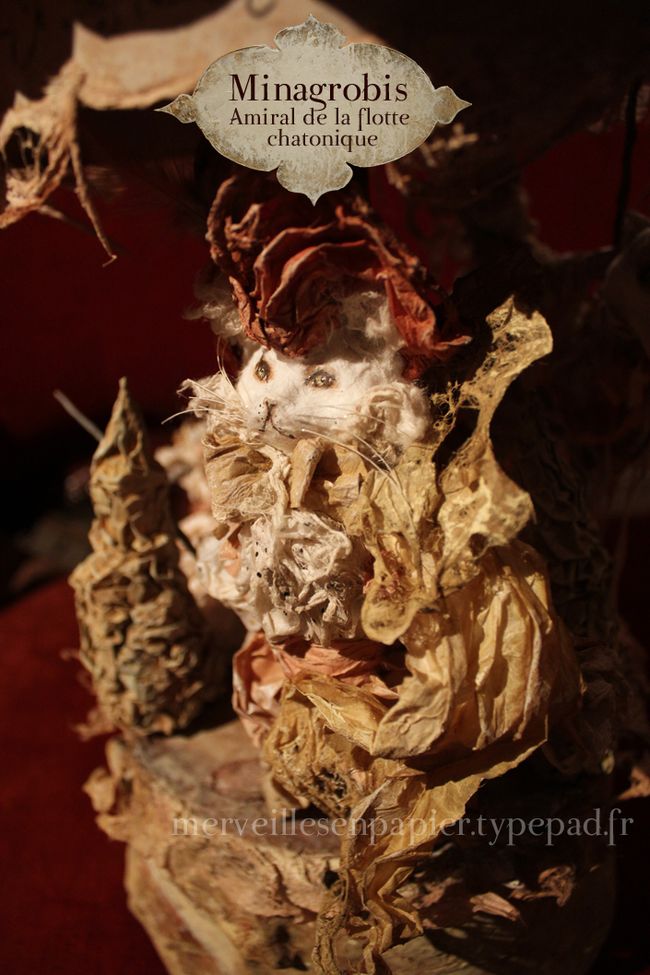 "Les rats se jetaient dans l'eau, et nageaient bien mieux que les chats; de sorte que vingt fois ils furent vainqueurs et vaincus: mais Minagrobis, amiral de la flotte chatonique, réduisit la gent ratonnienne dans le dernier désespoir.
I1 mangea à belles dents le général de leur flotte"
"The combat was obstinately kept up; the rats threw themselves into the water, and swam far better than the cats, so that twenty times they were conquerors and conquered, but Minagrobis  admiral of the cats' fleet, reduced the rats to the extremity of despair.
He greedily ate up the leader of their fleet,"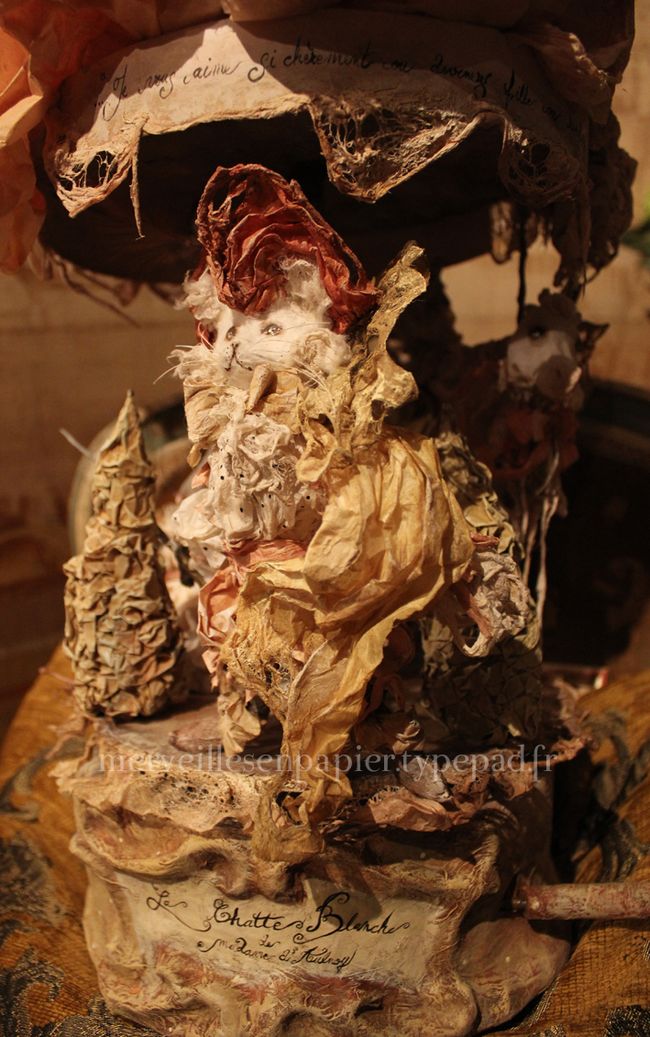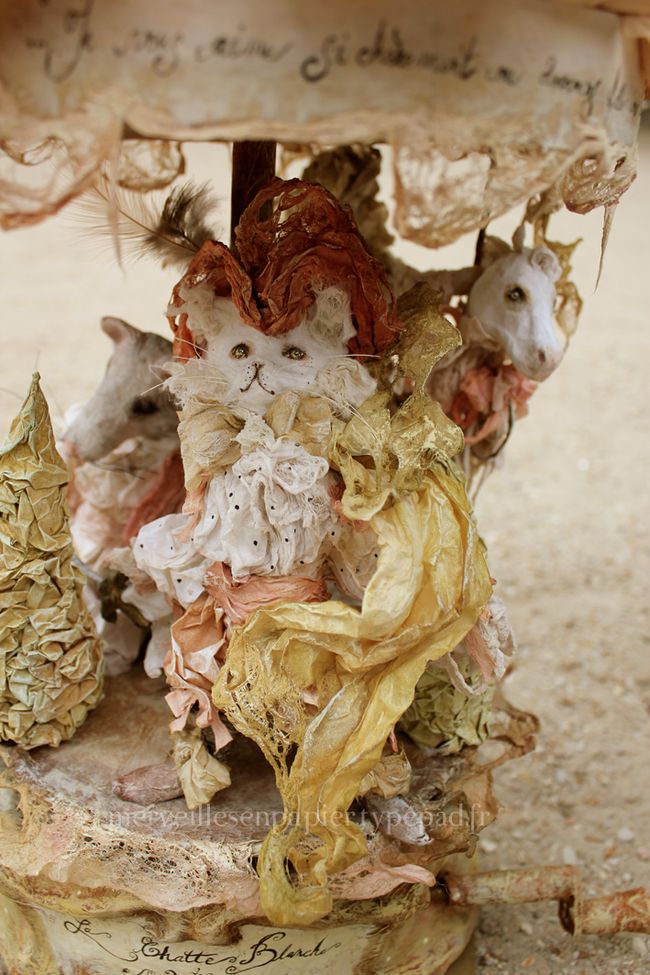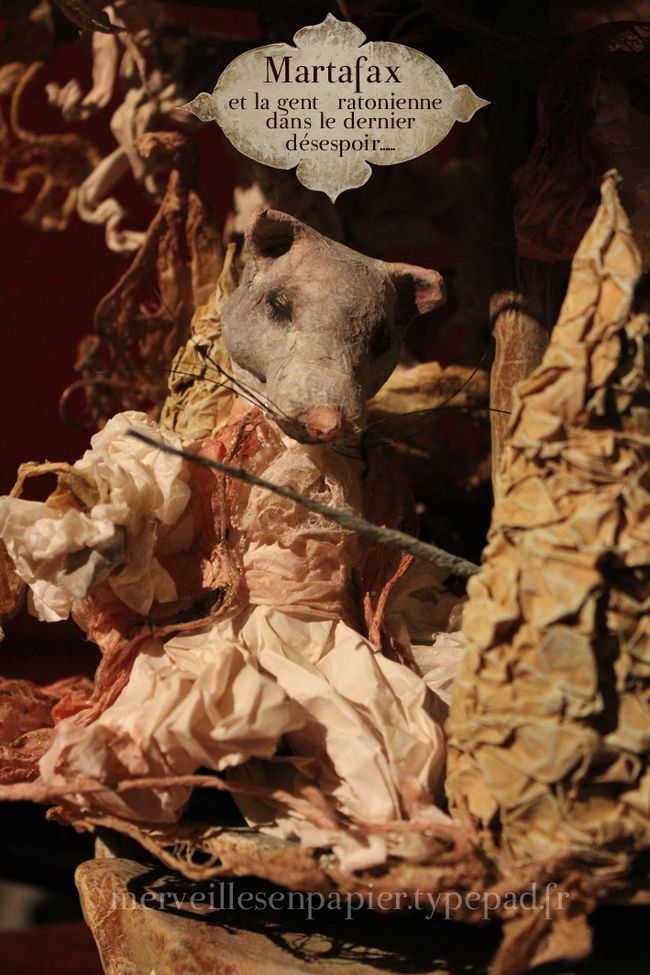 "Notre prince reprit son cheval de bois, et sans vouloir chercher d'autres secours que ceux qu'il pourrait espérer de l'amitié de Chatte Blanche, il partit en toute diligence, et retourna au château où elle l'avait si bien reçu."
"The youngest again mounted the wooden horse, and rode back at full speed to his beloved White Cat."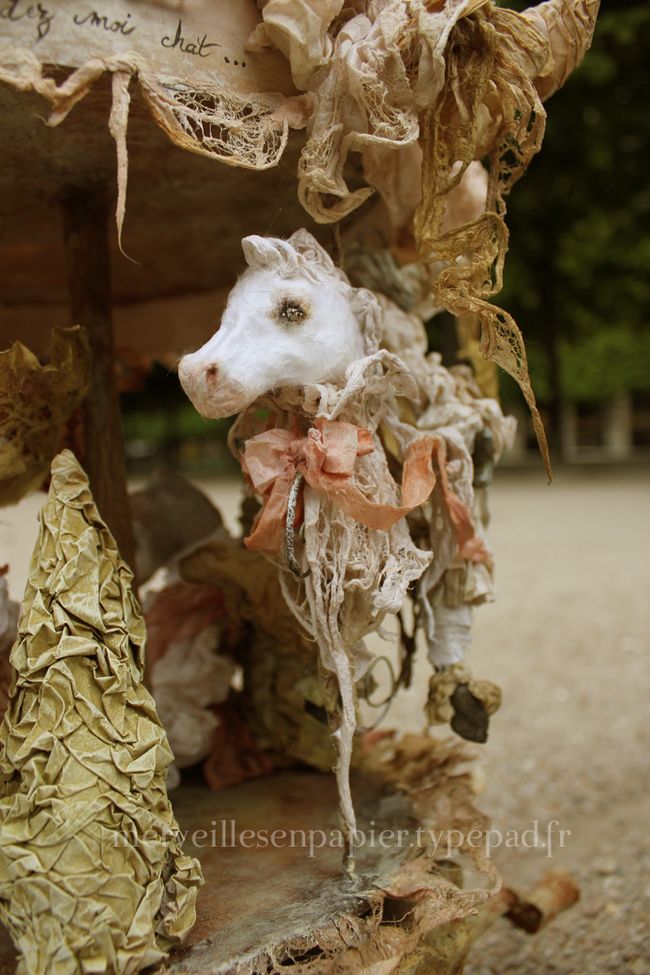 "...L'on servit ensuite un médianoche très propre, qui causa plus de plaisir au prince que le feu ; car il avait grand-faim, et son cheval de bois l'avait amené si vite qu'il n'a jamais été de diligence pareille. Les jours suivants se passèrent comme ceux qui les avaient précédés, avec mille fêtes différentes, dont l'ingénieuse Chatte Blanche régalait son hôte. C'est peut-être le premier mortel qui se soit si bien diverti avec des chats sans avoir d'autre compagnie."
"Perhaps you are a fairy," he said. "Or has some enchanter changed you into a cat?"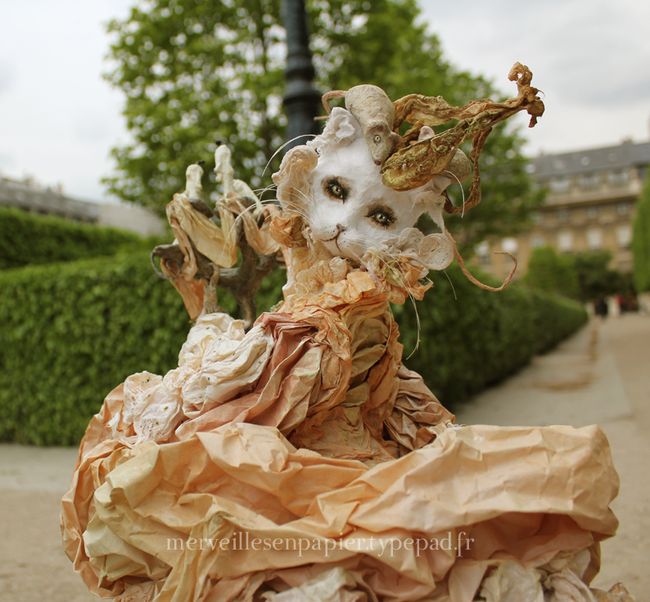 (pour de vrai le carrousel est plus stable qu'il apparait ici, car sur les vidéos il était installé sur un coussin ,forgive the "aukwards "movements of the carousel on the video , it wasn't settled in the best position : on a pillow..)
Si vous ne pouvez pas voir la vidéo elle est ici if you can't watch the video click here
"You see, Prince, that you were right in supposing me to be no ordinary cat!."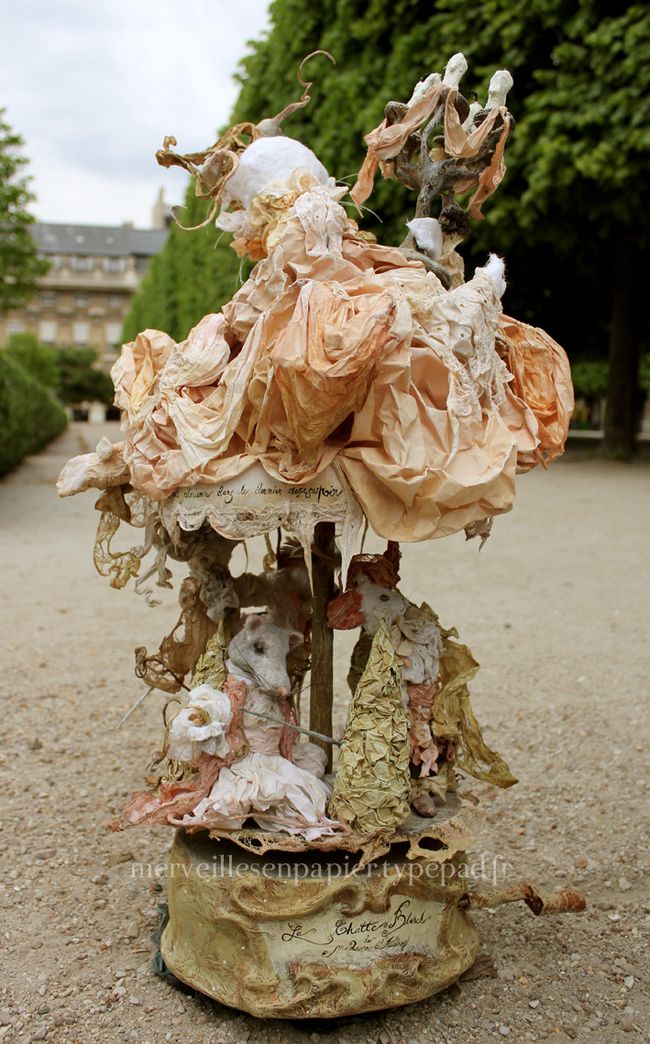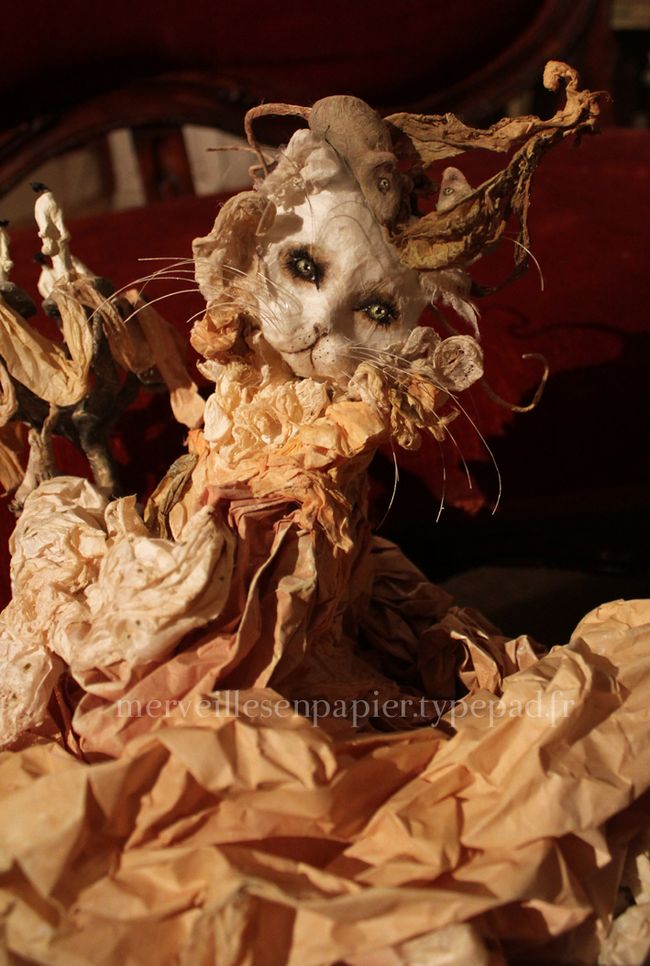 Et retrouvez Minagrobis et Martafax en vente sur Etsy
and Minagrobis and Martafax are also available on Etsy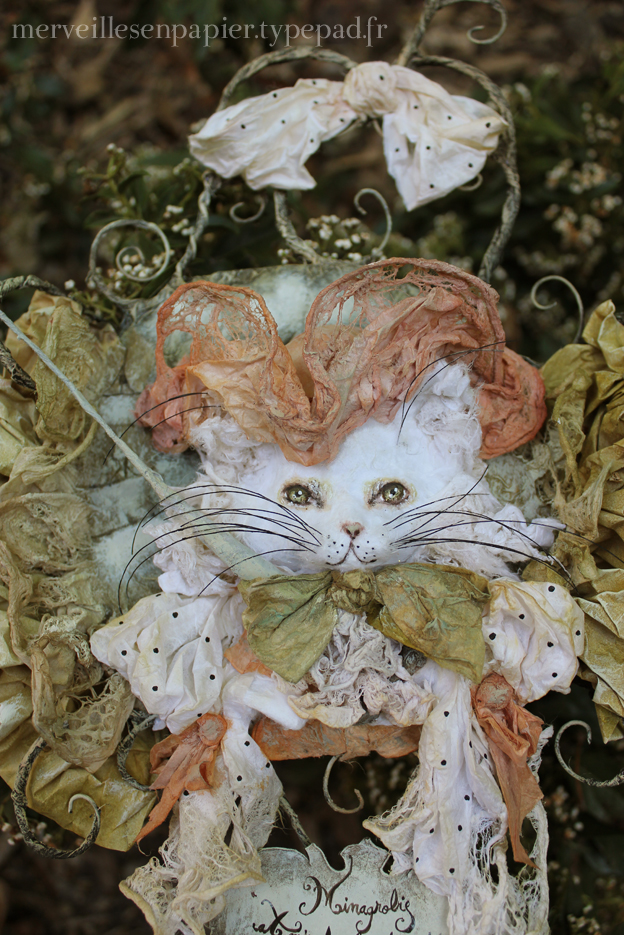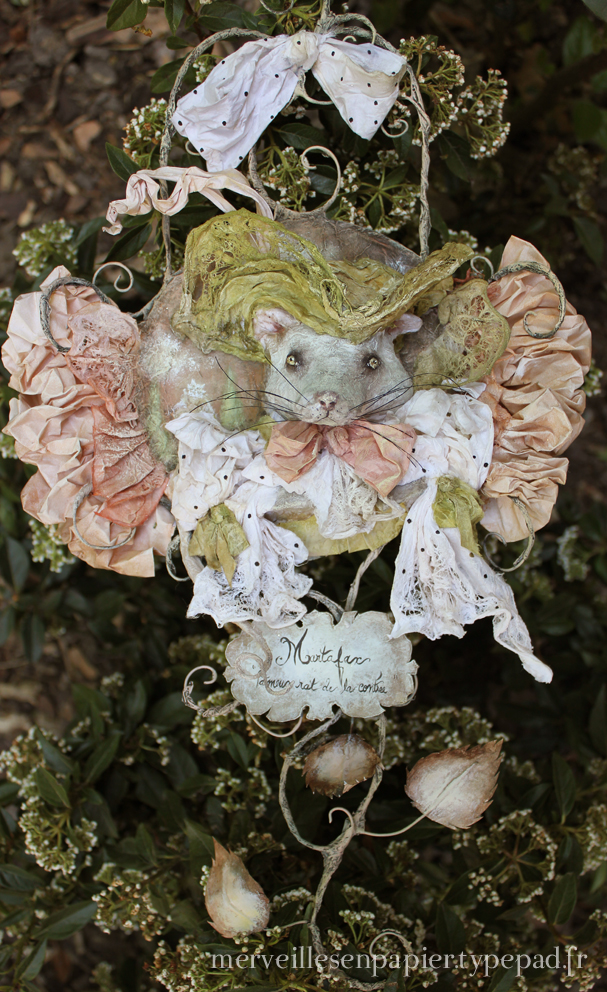 Et puis je signale que les dates des prochains stages qui auront lieu cet été  à Lyon sont en ligne ici